The lead news today is that the
South Pacific Island of was utterly devastated by a super Cyclone.
So where the heck is Vanuatu?
Vanuatu is a small island republic in the South Pacific - sort of in the neighbourhood of Fiji and the Solomon Islands.
I visited Vanuatu seven years ago, I thought you might be interested.
May 2008
I'm floating inside a sunken ocean liner. It's darker than the inside of a cow. My small dive light barely makes a dent in the darkness The last time I could see my depth gauge it read 160 feet, which is a bit troublesome since the water proof case on my digital camera is only guaranteed to 125. My dive computer is beeping signaling me that I've exceeded my depth time and I'm now into decompression mode. I've never done a decompression dive before. Did I mention that ocean liner is lying on it's side? Oh, I should also mention that dark enclosed places under 50 meters of water make me a bit claustrophobic. So here's the burning question: Am I having fun yet???
So what am I doing in Vanuatu? Well it's part of my "Bucket List."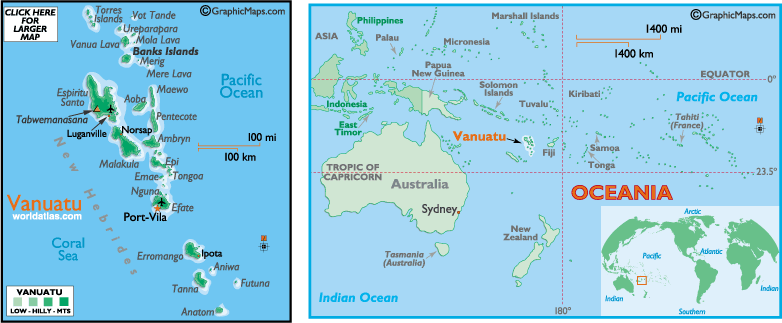 I'm in the South Pacific Island of Espiritu Santo which is part of the Republic of Vanuatu. Vanuatu is an island nation comprising of approximately 83 islands. If that isn't confusing enough there are over a 100 different indigenous languages that are spoken in the tiny country of about a quarter of a million people. It was originally a French colony; but given the fact that it was – well a French Colony, there isn't that much French spoken there anymore. English is the main language spoken along with Bislama – a type of Pidgin English spoken on several South Pacific Islands. Vanuatu is in the South Pacific about 1700 east of Northern Australia and west of Fiji.
If you're a survivor fan, you might have heard of Vanuatu, as the shows 9th season was shot there in 2004. If you're a lot older you might remember the TV Series "Baa Baa Black Sheep" staring Robert Conrad. The series was about American pilots stationed in Vanuatu during WWII.
Vanuatu was a key base during WWII used by the allies to stop Japan's relentless march towards Australia, and is indirectly the reason why I'm visiting the country.
As a scuba diver who relishes diving on historical WWII wrecks, Vanuatu is very high up on my "bucket list." That's because Vanuatu sports the only intact ocean liner, lying only a few hundred yards off shore.
SS Coolidge
The Coolidge, named after American President Calvin Coolidge was a luxury ocean liner built in 1931. She was 654 feet long and 84 feet wide and could accommodate 3500 passengers (By comparison the Holland American Veendam is 720 feet long and can accommodate 1250 passengers).
In 1941 the Coolidge was appropriated by the American Government to be used a troop transport. All the luxury and finery was stripped out of her. She was painted gun metal grey and reconfigured to carry up to 5000 troops.
Coolidge on the Beach
It was on one of these troop carrying missions to Vanuatu that the Coolidge hit a mine and began to sink. The Captain ran the ship onto the shore of Espiritu Santo and by some miracle nearly all the 5000 troops and crew scrambled off the ship and waded ashore. A few hours later the Coolidge slid off the beach and sank into deeper water.
For the next twenty years the ship lay untouched until an Australian diver/photographer named Alan Powers rediscovered the wreck and led in salvage operations in the late sixties then opened a diver operation specializing on dives on the Coolidge.
Jeff & Alan Powers
Alan is a Cherubic man in his mid seventies who still often goes out with his clients to dive the Coolidge. He has built a fairly large very professional dive operation that operates in a large building on the main street of Luganville next to his home.
One of the unique things about diving the Coolidge is that you can do so right from the beach. You wade out about about a hundred feet where you find a rope. You simply follow the rope down to the bow of the ship. The bow of the ship is fairly shallow, about 10 meters. The stern is quite deep lying in 70 meters – a deep dive by anyone's standard.
Because most of the dives are fairly deep most of the dives require what is known as "decompression." What this means is that because you have been diving at depth, you must make some carefully planned rest stops on your way back up to allow your body time to expel the excess nitrogen that has accumulated in your body. If you don't you could suffer a nasty and potentially fatal case of the bends. Depending on how deep you've been and how long you've been there you can spend easily upwards of half an hour just "blowing" off nitrogen. Because of the lengthy waiting, you probably won't have enough air in your tanks to complete the dive without some help. That's why the dive operation plans to leave extra tanks for their divers at certain depths. When you arrive at the predetermined depth there should be tanks waiting for you and you switch over to them, then when the rest time is complete you witch back to your own and proceed to the next stop or the surface. This process can take a while.
Decompression diving is not a skill that is taught to beginning divers, but is taught in the more advanced courses, so if you're a new or beginning diver you might want to reconsider diving the Coolidge.
The Coolidge on the bottom
My first dive on the Coolidge was to familiarize myself with the outside of the ship, and this went well. This ship is so huge that it's hard to really get a feeling for the scope of it. Also because the ship is lying on it's starboard side it's hard to really get the perspective of it. The dive was fairly deep and my dive computer began to beep indicating that I had now entered decompression mode. I followed the instructions on my computer and with my fellow divers completed the dive without incident. Because we were not that deep for any great length of time I didn't need to use the auxiliary air. However the next dive was a completely different story.
The "must do" dive of the Coolidge is the visit to "The Lady" The lady is a large picture of a lady riding a horse in the main dining room of the Coolidge. It's considered good luck for a first time visitor to swim up to the picture, take the regulator of their mouth and kiss the lady.
I'm somewhat skeptical about doing this. First of all it's a much deeper dive than my previous one. It's also deep inside the ship. Also several divers have gone to visit the lady and never returned. Did I mention I'm slightly claustrophobic? I have panic attacks in car washes.
I'm told that I will be fine. In fact they will assign an experienced dive master to accompany just me. I reluctantly agree.
David is my experienced dive master. I introduce myself and ask him how old he is.
"I just turned twenty one. " He says proudly. My kids are older than him. This does inspire confidence.
We proceed down the rope to the Coolidge. I've got a small diving torch and my underwater camera with me. Things go well till we enter into the ship. It's darker than the inside of a cow! I grab onto David's arm like a blind man crossing a busy highway. My other hand has a death grip on my flashlight. My camera is all but forgotten. All my breathing techniques are quickly forgotten and I begin chugging through my air like a steam engine. I worry that if my flashlight runs out of battery power I'll be lost in the inky darkness forever.
David gamely keeps pushing me forward. Finally we've arrived at the painting. David pries the camera from my hand and motions for me to take the regulator out of my mouth and "kiss the lady."
David shakes his head and motions for me to do it again. I do it three times while he keeps taking pictures. Finally it's time to head back. As we leave the ship I notice that I have hyperventilated through a most of my air. I won't have enough to make it back to the beach. I show David my air gauge and he motions for me to share some of his air – he has lots. We proceed along like a pair of Siamese twins to the first decompression stop where I switch to the tanks that have been left at the site. After about twenty minutes it is time to swim back to the beach.
Back at the dive shop David is showing the other dive masters the pictures he took of me kissing the lady. They are all laughing uproariously. When I ask to see what's so funny they show me the pictures.
The pictures show me not kissing the lady. I am, in fact, kissing the unicorn! I confess that I would have kissed the unicorn's back end if it would have got me out of the ship quicker!
All in all, diving on the Coolidge was a great experience. So what's next on my bucket list? I hear there's 1890's vintage American Battleship scuttled in Suva harbor in the Philippines. I just hope there isn't anything to kiss there.
If you go:
Vanuatu is serviced by Qantas and Air Vanuatu. Routing can be a bit of a challenge as the airlines only fly on certain days and change their schedules frequently. I booked my South Pacific trip which included Fiji, Vanuatu, Papua New Guinea, and Australia through Travel Arrangements Limited (www.SouthPacificReservations.com) which specializes in South Pacific Travel. The dive operator in Vanuatu was through Allan Power Dive Tours (www.allan-power-santo.com)
NEXT:
Out of Africa - Is it safe to return?