Today is another LONG driving day as we drive to Nyungwe National Park. We arrive at Nyungwe Top View Hill Hotel where I'm scheduled to spend two nights. This time I have a nice two room cottage – complete with a fire place. There seems to be a problem regarding Penny and Peter's accommodations. They'll have to find other accommodation in the village down the road. As a consequence I'll be dining alone this evening. Peter warns me to be there early so I won't get killed in the stampede to the buffet table. When I ask why, he just smiles.
As instructed, I arrive early for dinner to find only eleven other diners. I figure Peter doesn't know what he's talking about. However when they bring out the meat platter the eleven diners rise as one and race to the platter like lions descending on a wounded wildebeest. The Rwandans may have abandoned the French language, but not the Le-Mans style way of starting a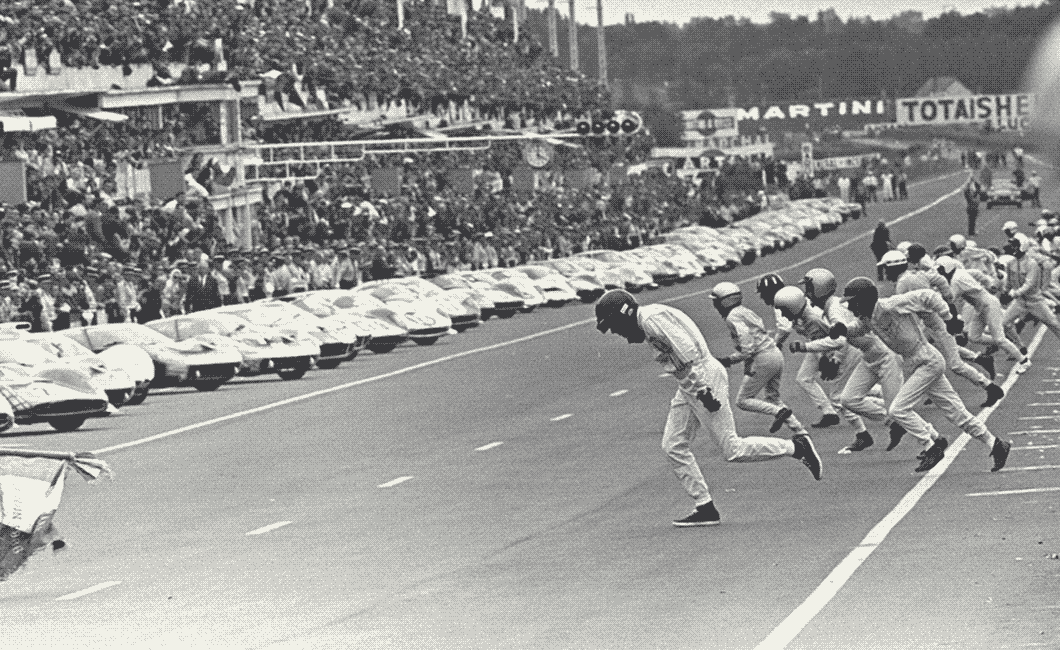 The LeMans race start

race. Tonight they're serving what passes for lamb chops: twelve diners – twelve chops. If someone takes two – someone gets none. Luckily the other diners only took one. When I arrive at the platter I discover why. There's so little meat on them they look like they were pre-eaten. Chock up another win for Rwandan cuisine.
Saturday November 25th
Monkeys along the road
I'm up early ready to be picked up by Peter and Penny for a canopy walk over the
forest canopy
. We drive for an hour often passing troops of monkeys and baboons on the side of the road.
The orientation center is small and Penny and I are the only visitors this morning. We're assigned a guide who will take us on the 45 minute walk over four long suspended bridges strung over the canopy. The guide tells us not to worry – these are very good suspension bridges – built by Canadians who build ski lifts. I tell him I was once suspended on a broken chairlift for four hours – it was built by Canadians too. This doesn't encourage Penny who's not keen on heights to begin with.
The cost for the canopy walk is $60.00 - about the same for a day pass skiing at Whistler. Except here there's no snow… or skiing. In fact, there are few animals here: lots of birds and monkeys - but no large cats or elephants. Evidently there was at one time - but poachers managed to kill them all. They've thought of reintroducing them; but they'd have to provide armed guards and that would upset the birders who like to walk alone. Birders are definitely strange… birds!
Nyunge suspension brdige
After the hike we return to the hotel - only to find there's a problem. The hotel claims that my room was only booked for a dingle night. After a brief discussion we opt to move to Kigali rather than find alternate accommodation in the park. This will allow me a little more time in Kigali.
We need to leave right away as it's another seven hours drive to Kigali. It takes the porter three tries to bring my bag up from my room. He keeps bringing other people's bags up… I wonder if they know they're missing.
Which takes me to where we began……
I'm driving down a twisting two lane highway in Rwanda a Toyota Land Cruiser. Pretty Penny is in the back bopping to the sound of the Zack Brown Band blaring from the back speakers:
"I got my toes in the water, ass in the sand
Not a worry in the world, a cold beer in my hand
Life is good today Life is good today…"
Kigale a model African city
We blow into Kigali just as the sun is setting. I'm impressed with Kigali. It's definitely not what I anticipated. It seems more European than African. It's a very modern clean city experiencing a building boom. All the streets are paved. There're sidewalks on both sides with street lights every twenty or thirty yards. There are traffic lights and crosswalks – and the cars are actually stopping for pedestrians! There are parks with lots of green spaces. It certainly shows what the future of Africa might look like.
Flame Tree Hotel in Kigali
Great Lakes has arranged accommodations for my last night at the Flame Tree Village in Kigali, and it doesn't disappoint. I have a two story unit for my last night with living room, dining room, kitchen upstairs and bedroom with full bath downstairs. I've come a long way from the first night.
Peter picks me up at nine and we embark on a brief tour of Kigali before he drops me off at the Genocide Memorial. When I arrive at the entrance I'm not sure whether I'm standing in the right line for admission when I spy another white face in the crowd. It turns out she's an American – unfortunately one with a real attitude. When I question her attitude we end up in a loud shouting match reminiscent of a Seinfeld or Curb your Enthusiasm episode.
Genocide Memorial
The Rwandan Genocide Memorial is nowhere as big or elaborate as the Holocaust memorials in Israel or the US, but it is effective.
One of the biggest differences is the wounds of the Rwandan genocide are still fresh. The event took place only 25 years ago. I notice scores of people in the line-up holding flower bouquets. These are the children of the genocide - many now in their 30's and 40's. They've come to lay them on the mass grave where they hope their parents are interred. There are also older people who are there to lay flowers on the graves of their children. To these people the genocide is still fresh.
What is chilling are the posters of hate propaganda on display inside the memorial. They are almost identical to the Nazi propaganda of the 1930's and 40's. Simply remove the word "Tutsi" and replace it with the word "Jew." I'm surprised that the Nazis haven't sued them for copyright infringement.
I wonder in fifty years when there is more distance if there won't be a generation of "genocide deniers" like we now see in the western world.
This isn't supposed to be a political blog, but a walk through a genocide museum makes you think.
The modern "Hotel Rwanda"
Peter is waiting for me in parking lot ready to take me to the last stop on the tour – the hotel des Mille Collines – previously known as the Hotel Rwanda (of the
movie
fame). We're to meet Penny and Patrick there for lunch. After lunch Peter and Penny will head back to Kampala. Patrick, a Great Lakes guide stationed in Kigali, will take me to the airport for the trip home.
"Hoel Rwanda" Today
It's a macabre feeling having Sunday brunch here – right after my visit to the genocide memorial. This was the place where high drama and death took place a few decades ago. But today everyone is sitting around having Sunday enjoying Sunday brunch. We say our final goodbyes and Patrick takes me back to my hotel to pack. He says he'd be back at five to take me to the airport.